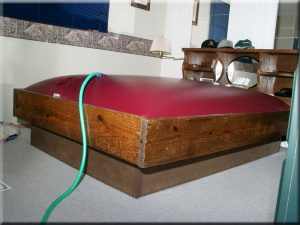 The upcoming Memorial Day holiday reminds us to step back and take stock of all the furniture we've destroyed – accidentally, intentionally, or otherwise – over the last year. Remember the end tables, the emergency cots, the love seats, the deck chairs, the ottomans, the hassocks – all shattered and splintered and piled in the front yard and burned after each of the year's many debilitating personal defeats.
And as a tribute to those coffee tables that have gone before, use an electric hammer to nail your remaining furniture to the ceiling and abandon house living altogether. Retreat to the forest where the furniture began as simple trees. Lose the ability to speak in coherent sentences and stop cutting your hair. Burn your clothing and throw rocks at any friends from your former life.
Do all of this in memory of your fallen water bed.